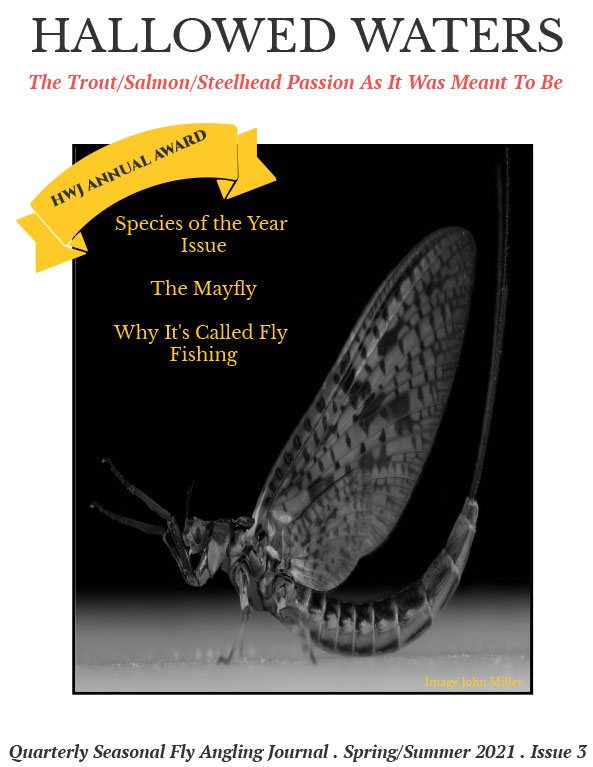 A Perfect Gift Option!
Your gift subscription gives complete access to the Hallowed Waters Journal Library for one full year (from the date you subscribe).

Please click on this link to download a printable gift certificate in PDF format to surprise your angling enthusiast!
Subscribing to our online magazine will give you complete access to the Hallowed Waters Journal Library for one full year (from the date you subscribe).
Our accolade winning and amazing in-depth issues full of sumptuous photography, fly patterns and extensive tactical information for you to read and re-read over and over. We treat each topic and article as a mini-bible on the subject that will have you explore your passion and journey for trout / salmon / steelhead fly fishing and re-think your relationship with your fly addiction forever!
No other magazine has the content and depth as Hallowed Waters Journal- find out what you have been missing and purchase today!
LISTEN TO MATT'S FREE PODCAST!
---
Enjoy the
Journal all Year!
Elevate your angling mind with an arsenal of tactical presentations and flies for Trout / Salmon / Steelhead.
Testimonials
What our subscribers are saying…
Joe Demalderis
Owner/Guide - Cross Current Orvis Outfitters of the Year, Whitetail Fly Shop-Delaware River, PA/NY
Superb Beyond
"This first issue is superb beyond what I expected for a launch. The organization, layout, design and editorial view is destined for awards and the highest regards of critical angling readers.
Today, most people are mere shortcuts of full lives,; they read signage and phone screens, and that's about all. Hallowed Waters is a gift for thinkers and may even rescue a few shortcuts.
I am pleased you asked me to contribute."
Bob Linsenman
Noted Michigan Author and Fly Fishing icon
Deep, theoretical thinking
"Instead of waiting for another one of his excellent books (of which there many), Matthew Supinski has dove into new wave publishing with an online quarterly magazine.
Hallowed Waters: The Trout, Salmon, Steelhead Passion As It Was Meant To Be is sure to delve into the deep, theoretical thinking that he has become known for. Preview his first edition now!"
Karl Weixelann
Fly fishing author and writer of "Great Lakes Steelhead, Salmon and Trout: Essential Techniques for Fly Fishing the Tributaries"
Bravo!
"I knew Matt and Laurie Supinski would produce a wonderful online magazine, and I was thrilled with the result of their efforts and creativity.
Imagine reading an artfully written article and enjoying the beautiful photos, all without the distraction of ads placed upon every page. Fine content presented as it should be, as the center of attention. Bravo!"
Mark Sturtevant
Former newspaper editor and fly shop owner
Best fly fishing magazine I've ever read!
"Hallowed Waters is far and away the best fly fishing magazine I've ever read. It's what fly fishing was meant to be. The photography is spectacular!"
Charlie McKlravey
Author of the Burr Lafayette Murder Mystery Series and avid fly fisherman
Pure unfiltered brilliance
"This Journal is pure unfiltered brilliance. Supinski takes it to the next level here.
Are you bored with dry, watered down 'Where, When and How', instruction manuals? Are you the fisherman who accepts there is more to learn?
In this journal, let Matt guide you one step closer to the rabbit hole, that is this unconquerable sport."
Eric Richard
Coveted Waters Outfitters and lobbyist for wild trout conservation
---
The Ebb and Flow Blog
Articles by Editor/Publisher Matthew Supinski:
---
We're Social