Brown trout (Salmo trutta) are the closest thing in the true fish world that resemble dog behavior other than their cousins Salmo salar and besides mammalian dolphins and orcas. Their intelligence (be carful author!-trout do not poses intelligence but have instinctual behavior) has always baffled me. In my "Selectivity" and "Brown Trout-Atlantic Salmon Nexus" books I have always been criticized by my editors for putting too many human attributes (anthropomorphisms ) to these magnificent clever little bastards. Moody, selective and ultra picky/ fussy, shy and bashful, shunning affection, very aloof ,selfish and glutenous pigs like some humans I know in their predation, and extremely smart and elusive to even the finest fly patterns etc. All these qualities are just the start which I can go on for pages in describing my beautiful buttery piscatorial loves and objects of desire ( you could tell I wrote a book about them eh?)
It was in the late 80's when I who just turned 30 had to make a pilgrimage to visit the hallowed waters and enshrined legacy of Hampshire's chalk streams at the recommendation of my Cumberland Valley limestone mentors. With my then Maryland Orvis fly shop owner and limestone fishing partner, Indian born and English educated Ash Law, we traversed and terrorized the English countryside like two cavalier brash Yanks that got the local police's attention by our bizarre driving and overindulging on some of the best British beer ever in the pubs- (that behavior is otherwise called "ugly Americans"- or to soccer fans as "hooligans"). Hampshire is know for the Grosvenor Hotel, where the smoking parlors were lit up by the rhetoric of Halford and Skues and their great debates over the dry vs. nymph back in the late 1800's.early 1900's in the hallowed chambers of the stoic Houghton Club on the River Test. (The story is quite the journey in the introduction to the mayfly article in the spring/summer 2021 issue of Hallowed waters called "The Mayfly Aristocracy" www.hallowedwaters.com)
In the town's little canals and small ice cold viaduct spring creek waters called "carriers", which ran through the towns back streets, and in between country homes and boutiques and just about everywhere, some of the biggest brown trout I ever saw swam. They were little channels of the River Test and guess what?- browns like pet dogs swam around in them like Koi ready to be fed!- I tell ya!, me tongue hung out of me mouth for days mates watching these trutta temptations that were off limits to fish to!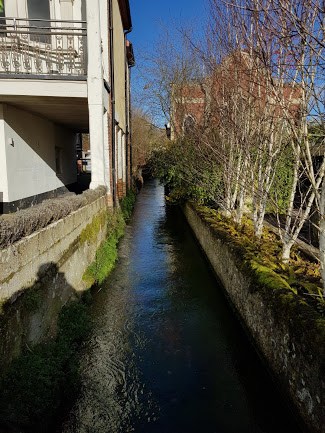 So what was truly amazing was that the most cunning, elusive brown trout- the master of coy deception , selective trickery, aloofness and down right invisible behavior when it comes sometimes to catching them, was also equally up for being petted like a dog and had a close chain link to humanoids walking around- strange eh? ( but just try and catch one when you want one!, that won't usually happen!)
But my blog subject is about drug addiction and brown trout-seriously author?- have you completely lost your rocker?- Nope! A group of Czech Republic biologists wanted to see the effect of possible contamination from urban effluent into streams and rivers, like was very possible on those Hampshire waters were trout swam next to peoples toilette bowls and sinks practically in those carriers. Similarly all over Europe, U.K., the Alps etc. have trout streams and rivers running right through small towns and villages , many with trout, salmon and grayling swimming in them.
I'm sure pollution ( even if checked and filtered through sanitation facilities) still escapes like we are finding in the oceans and has tons of human influence in it- and yes Prozac, drugs of all kinds besides pollution (Actually?- maybe browns can benefit from Prozac effluent since they are so moody!:)
"Whether illicit drugs alter fish behavior at levels increasingly observed in surface water bodies was unclear," says Pavel Horký from the Czech University of Life Sciences Prague, Czech Republic. He and his colleagues, from the same university and the University of Southern Bohemia in České Budějovice, Czech Republic, decided to investigate whether brown trout (Salmo trutta) are at risk of addiction from illegal methamphetamine in their waterways and discovered that they are. The team publish this alarming discovery in Journal of Experimental Biology. Here is the link…https://scitechdaily.com/alarming-discover-freshwater-methamphetamine-pollution-turns-brown-trout-into-addicts/amp/
Bottom line?- so maybe brown trout are like humans and can become addicted to drugs, affection and methamphetamines. See, I knew brown trout had human qualities my good scientist/editor friends?
The spring summer issue of Hallowed Waters Journal is packed with interesting stories and an incredible fly fishing source for the passion and journey of all things trout. salmon, steelhead …come to Hallowed Waters today! Hallowed Waters Home Page
Also …don't miss our new Podcast we just launched July 4th- the Hallowed Waters Podcast . We are running an awesome series called "Big Brown Trout Hunters"- come listen and enjoy, and subscribe to www.hallowedwaters.com journal today!- your passion for fly fishing will never be the same!
Link to Podcast: https://open.spotify.com/show/5jeEdcGqhGMZFn0xMcLZOj